User Support Docs
Shaka Connections Help
What is Shaka Connections?
Shaka connections is a new culture tool that will help us promote networking & workplace belonging by providing intentional opportunities to connect employees across different offices and remote locations. This tool will encourage all of us to dedicate time to getting to know our colleagues.
Participants are able to sign up to meet virtually for 20 minutes, either on a monthly or quarterly cadence. The platform will review your calendar to find a time that works best for the group and send you a calendar invitation. You'll meet with a new group of employees each time.
How Do I Sign Up?
Keep an eye on your slack or teams for the opportunity to join with the click of a button! You should recieve an invitation from the Shaka App via your chats if your admin has launched Shaka Connections for your workspace.

Alternatively, you can head to joinshaka.app and log in using your employee email + accepting all Google or Microsoft calendar Permissions. On the Connections tab, make sure you are set to "active"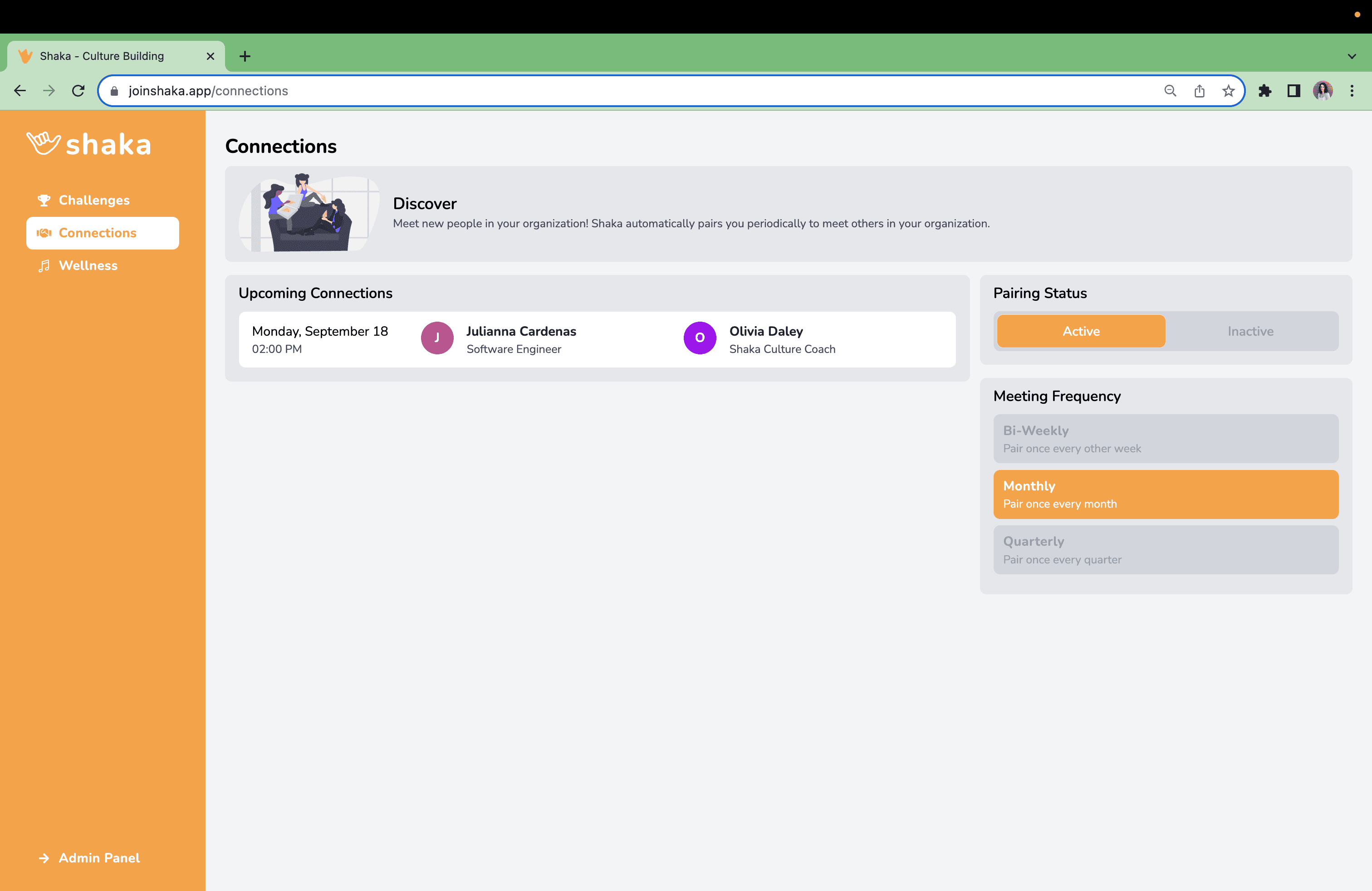 I am Joining Connections For The First Time, What Should I Know?
The best thing you can do is quickly read through our Shaka Connections Etiquette Guide. This will help you understand the expectations for your first Connection.
What if I Don't Know What to Talk About?
Check the content in the calendar invitation for some conversation starters provided by Shaka to help fill the 20 minutes!
It is also nice to always start with introductions unless you all know each other well: pronounce your name, tell folks what team you're on, and how long you have been with the company.
Everyone in my group is in the office, can I use a conference room? / Can I take this meeting in a conference room?
We recommend taking this meeting to one of the couches or various common spaces you have throughout the office, better yet, invite your Connection to take a walk for 20 minutes! If you need to take the meeting in a conference room, please remember to follow your company's conference room best practices and update the meeting invitation to reflect the new location.
What if I'm Unable to Attend this Meeting? Can I Reschedule?
To reschedule on Google Calendar, you are able to "Propose a new time". To do this, you want to open up the calendar invitation and click on the ⬇️ arrow. This will then open up new options including the "Propose a new time" option.
To reschedule on Microsoft Outlook Calendar, you are able to propose a new meeting time
Why Should I participate in Shaka Connections?
There are many reasons to participate in Shaka Connections but here are a few:
Internal Networking You know what helps tremendously in climbing up the corporate ladder? Having a network of people within your organization who have gotten to know you. Mic drop. But if you are still not convinced, keep reading.
Cross-Functional Knowledge Having connections to people who work in different areas of the company and gaining a better understanding for what they do for their organization will certainly make you more efficient and impactful in your role.
Personable Leadership Are you a busy executive wondering if Shaka Connections is worthwhile? Believe it or not, some of our best reviews and testimonials for Shaka Connections come from busy executives who feel grateful that Shaka finally made time on their calendar to do something as impactful as getting to know the people who work under and around them.
Making Friends Believe it or not, having friends at work is the leading indicator of whether employees enjoy their job or not. So, if you want to make your day to day happier, view each Shaka meeting as a chance to make a friend.
I No Longer Want to be a Part of the Program. What Should I Do?
First, log into Shaka by visiting joinshaka.app and using your company email to sign in. On your Connections homepage under "Pairing Status", you can toggle between Active and Inactive. Inactive will opt you out of the Connections activity. Please feel free to toggle it to Active once you feel ready to join the activity once again.
How do I share feedback?
The Shaka bot will often send you a brief questionnaire via Slack or Teams following your Shaka Connections meeting. Feel free to share your thoughts and experiences there, to help us make improvements along the way.