Introducing
Shaka App for Slack
Now Shaka clients can meet their employees where they already love to communicate by installing the Shaka Bot for Slack! Users can participate in Shaka engagement programs without ever leaving their regular workspace tools.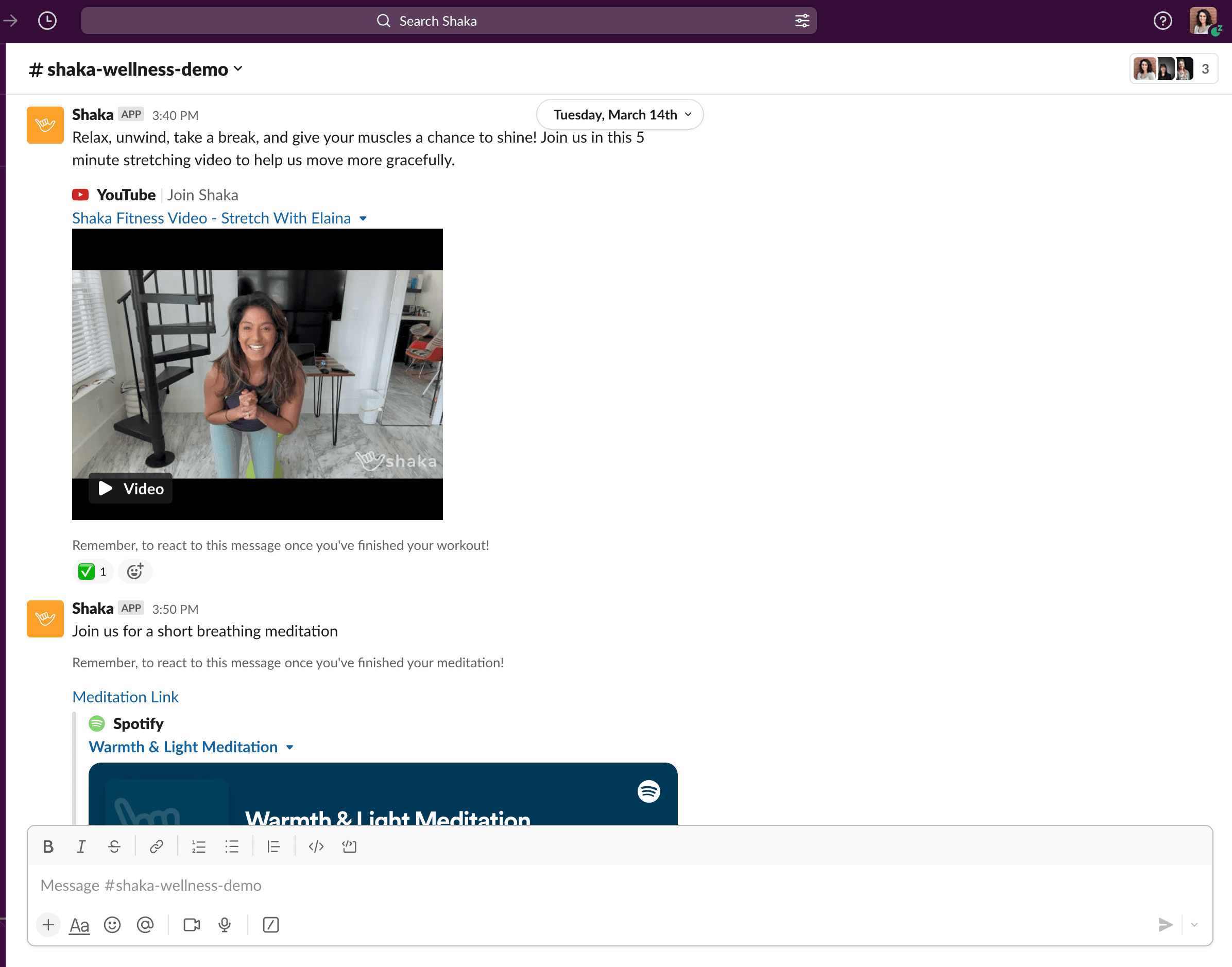 Employees company-wide can learn about programs facilitated by Shaka and participate in these engagement activities directly within Slack with Shaka's App for Slack! Each of Shaka's features that can be experienced in our web application now can be experienced in Slack!
Shaka Connections - Remind employees of their upcoming Shaka coffee chat meetings within Slack and invite them to share feedback on their connection using simple feedback forms in the Shaka App for Slack.
Shaka Challenges - Invite employees to join upcoming team-based Shaka challenges at the click of a button within Slack. Participants can make their challenge submissions via Slack using a simple slash command and winners are announced in the channel.
Shaka Wellness - Shaka's wellness content can be delivered directly to your team using our App for Slack. Brief workouts and meditations for your employees delivered at the frequency of your choice! Even better, employees can share songs they love to be queued for Shaka music within wellness!
Shaka Spark - Spark conversations amongst employees using fun conversation prompts created for you by Shaka delivered in Slack from the Shaka Bot! Schedule spark messages in advance, with our fun GIFs Shaka is sure to start some chatter in Slack.
The best part is, Shaka is always building. Check back for more features and functionalities down the road!
Ready to get started? Awesome!
Companies that want to use Shaka's App for Slack must first have a subscription for our services. Schedule a demo today so we can show you the App for Slack live in action and discuss plans to help you launch!
Using Shaka's App for Slack
Introduction Video
The Shaka team put together a short video to share how excited we are about our new app for Slack but we encourage you to request a demo to see the full capabilities of Shaka's App for Slack.