Shaka Admin Docs
Shaka Wellness Help
Shaka Wellness is an easy way to support employee physical, mental and social health at work. It is a way for leaders to say "we care about your wellbeing" while also actually doing something to promote good habits!
Do I have to use all of the Wellness Tools?
No, of course not! When you install Shaka into Slack or when you visit the Admin ➡️ Settings ➡️ Wellness page you are able to select which types of Shaka Wellness content you would like your workspace to recieve.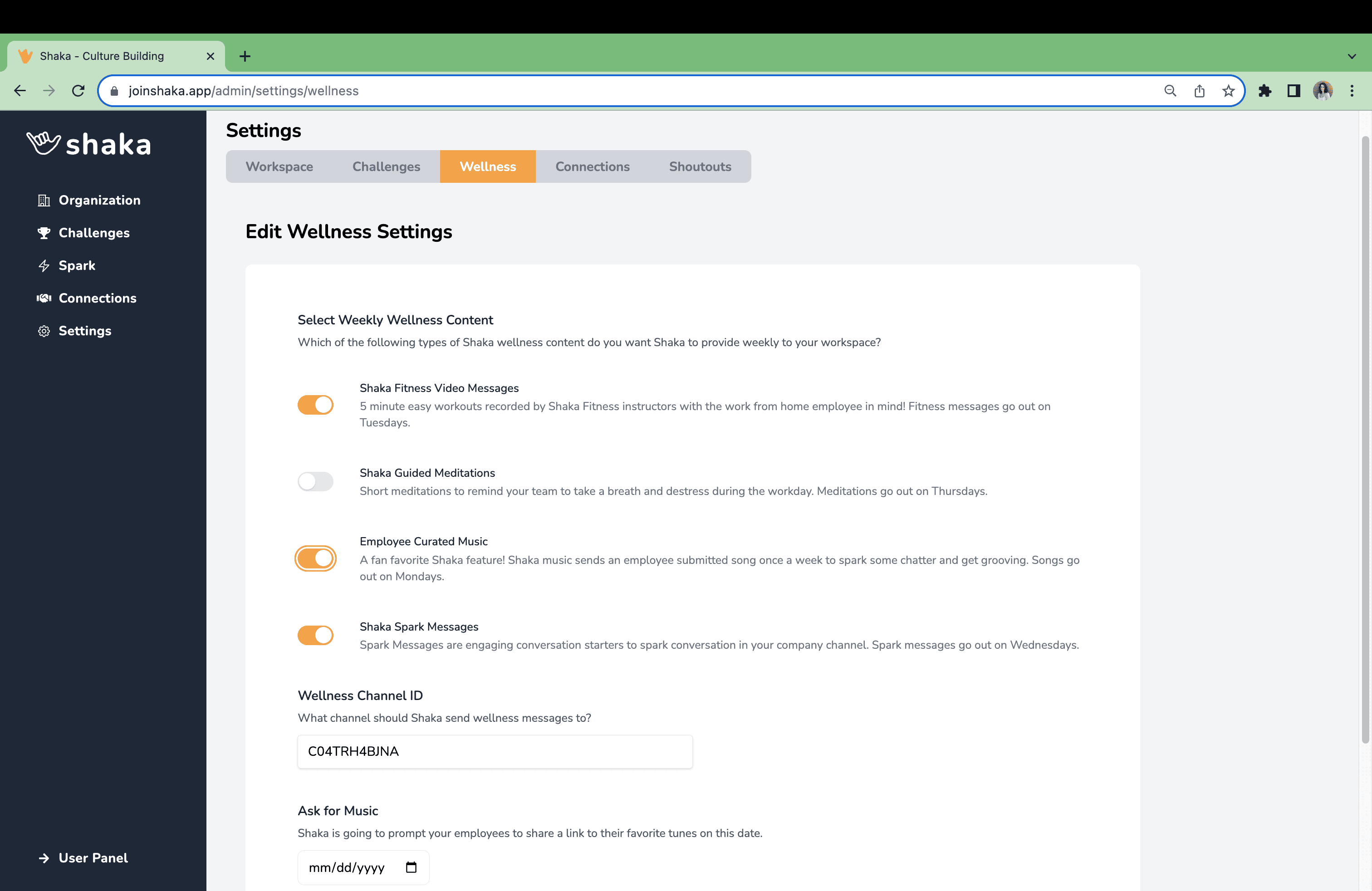 Are the Fitness videos professional?
Yes, we work with certified fitness instructors to record professional fitness content for your users to enjoy at home or in the office. We have asked our fitness instructors to record the workouts in the comfort of their own home to make these workouts extremely relatable and achievable for the work from home employee.
How does Shaka track participation in Fitness and Meditation Content?
Employees can indicate that they completed a workout or meditation by reacting (with any emoji) to the Fitness or Meditation message sent by the Shaka App or in the web portal.
Does Shaka celebrate users who are actively participating in Wellness content?
Yes, Shaka has built in milestones where it will trigger a celebration for an employee who is doing a great job of practicing Wellness habits! This celebration will be delivered in the Wellness channel.
Can I suggest a Shaka Spark Message?
Of course! We absolutely love it when our customers help us create fun "Sparks" for your workspace. Simply email us at contact@joinshaka.com with your idea, and we will get it added to your Spark queue!
How can I tell which Songs have been the most popular?
Based on the number of reactions to each song, Shaka builds a fun leaderboard for your workplace tunes! This leadboard can be seen on the Wellness ➡️ Music tab and will be sent to your wellness channel on occasion.
Are songs for Shaka Music screened to ensure they are appropriate?
Yes, the Shaka Team does review each of the song submissions and we use our best judgement to only approve songs that are considered PG-13 in our book. We will likely reject songs with a large amount of explicit language or songs we feel might offend someone. This being said, we do our due diligence to ensure an excelent experience but it is your users responsibility to judge what content is appropriate for work.
To review the Shaka wellness content that has been shared with your organization log into https://www.joinshaka.app using your email associated with your Slack or Teams account and navigate to the Wellness Tab.
I am inside the Admin Panel for Shaka but I do not see a tab for Wellness?
This is actually normal, there is no admin panel view for Wellness. You can see all of the information and data on Wellness on the User side of the Shaka web app. If you don't see the Wellness tab on the user side or your company isn't recieving wellness content, this might mean your company hasn't set up Wellness as an active feature at all.
My company isn't currently set to active in Wellness, how can I change that?
You can manage your entire company Wellness settings by navigating to Admin ➡️ Settings ➡️ Wellness and updating your Wellness Settings